A Boogie Woogie Christmas
is performed by North America's premier tribute Rock This Town to the darlings of rockabilly, the Stray Cats.  Comprised of some of Toronto's most seasoned musicians, Rock This Town delivers a high energy serving of the most entertaining and danceable music, sure to please any age group.
The Stray Cats burst onto the scene in 1980 spearheading the rockabilly revival. They were unique in the market place; offering a brand of old time rock and roll that hadn't been heard since the 1950's. No other band at the time had a stand up drummer and upright slap bass player supporting a crooning, Gretsch wielding guitarist. Nobody else created this much sound and energy from just three people.
Rock this Town captures every nuance of the Stray Cats sound and performance, right down to authentic costume changes and vintage instruments. These guys love to entertain – and it really shows! Rock This Town is a perfect fit for any crowd looking to have some fun!
A Boogie Woogie Christmas has been beautifully orchestrated by Dr. Jessica Kun and Ross Daly for either a small horn section, or full symphony orchestra. Visit www.ovationsp.com for more information.
Experience this great show at your next corporate event or symphony concert!
Video Samples:
Crazy Little Thing Called Love (Dec 10, 2011)
with the Richmond Hill Philharmonic and Ovation Symphonic Productions.
Jump Jive An' Wail (Dec 10, 2011)
with the Richmond Hill Philharmonic and Ovation Symphonic Productions.
Jingle Bells (Dec 10, 2011)
with the Richmond Hill Philharmonic and Ovation Symphonic Productions.
Man With The Bag (Dec 10, 2011)
with the Richmond Hill Philharmonic and Ovation Symphonic Productions.
Winter Wonderland (Dec 10, 2011)
with the Richmond Hill Philharmonic and Ovation Symphonic Productions.
Christmas Song List:
Blue Christmas
Dig That Crazy Santa Claus
Everybody's Waitin' For The Man With The Bag
Getting In The Mood For Christmas
Jingle Bell Rock
Jingle Bells
Let It Snow
Santa Claus Is Back In Town
Santa Claus Is Coming To Town
Sleigh Ride
Stray Cat Strut / You're A Mean One Mr. Grinch
Winter Wonderland
'Zat You Santa Claus?
….Plus selections from….
Rock This Town Song List:
| | |
| --- | --- |
| 6 Days On The Road | Lotta Lovin' |
| 18 Miles To Memphis | Mona Lisa |
| 20 Flight Rock | My Baby Left Me |
| Blue Suede Shoes | Mystery Train |
| Bring It Back Again | Please Don't Touch |
| Crazy Little Thing Called Love | Ring Of Fire |
| Double Talking Baby | Rock Around The Clock |
| Fish Net Stockings | Rock This Town |
| Flying Saucer Rock And Roll | Runaway Boys |
| Gene & Eddie | Sexy At 17 |
| Gina | Sleep Walk |
| Good Rockin Tonight | Stray Cat Strut |
| Honey Don't | Summer Time Blues |
| Hound Dog | Tennessee Zip |
| I Won't Stand In Your Way | That's All Right Mama |
| Jump Jive An' Wail | This Cat On A Hot Tin Roof |
| Just Because | Too Hip Gotta Go |
Bios:
Nick Pattison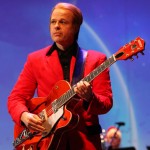 For the past 3 years, Nick Pattison has been performing the role of Brian Setzer in the Stray Cats tribute band Rock This Town. Prior to his involvement with Rock This Town, Nick's musical career included composing, teaching, and performing a variety of styles of music. Nick first started playing guitar at age 10, and was soon participating in – and winning – the American Guild of Music guitar competitions. By age 16, Nick was playing professionally in clubs and bars around southern Ontario. Coming from a diverse musical family – his uncle played keyboards with Chet Atkins – helped Nick develop a firm grasp of many idioms. This in turn has led to many gigs as both a sideman and band leader. From rock to funk, country to blues, Nick can play it all!
Upon completion of an Arts degree from Queen's University in 1992, Nick focused on developing his compositional skills. His original music has received airplay on local Toronto radio (Q107, CFNY). He has also performed as a sideman on numerous indie recordings. In conjunction with his duties in Rock This Town, Nick also appears as Bjorn in ABBA-Mania. He is a sought after teacher, performer and studio musician and is always looking for new musical challenges.
Jay Burak
 Following his education in the Humber Jazz program and advanced education with Paul Robson at the Ontario College of Percussion and Music, Jay found endless work as a drummer. His calling has taken him across North America and around the world many times, playing for royalty in Dubai to concert audiences here at home. For more than 30 years, Jay has been the stick man for countless recording artists covering just about every style of music. Touring with and supporting musicians such as Johnny Cash, Dwight Yoakham, Shania Twain, George Jones, Tammy Wynette, Merle Haggard, Ricky Skaggs, Gloria Gaynor and Paul Reviere and the Raiders, to name a few, was Jay's routine for many years. The holes in his schedule were filled in with recording sessions, radio, television and live theatre.
In the last number of years things have settled down a bit for Jay as he has taken on the position of Assistant Director at the Ontario College of Percussion and Music. Jay continues to travel the globe with a production company that features the stunning re-creation of acts such as ABBA, the Bee Gees, Tina Turner, Rod Stewart, Neil Diamond, etc., as part of their cast of artists. These productions have also given Jay the pleasure of performing with symphony orchestras from dozens of major cities across Canada and the USA.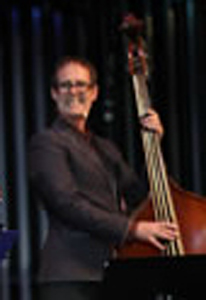 Russ Boswell
Russ has been busy on the local Toronto music scene for a number of years and has toured extensively with: David Wilcox, Corey Hart, Colm Wilkinson, Seals and Crofts, Dianne Tell, The Parachute Club, and Holly Cole.
Russ has also recorded with numerous artists including: Serena Ryder, David Wilcox, Corey Hart, Charlie Major, The Rankin Family, Beverly Mahood, Mary Margaret O'Hara and Harry Manx.
Other artists he has performed with include: Mary Margaret O'Hara, David Clayton Thomas, Carol Welsman, Harry Manx, DK Ibomeka, Jackie Richardson, Albert Schultz, Alannah Myles, Carlos Del Junco, Tony Flame and the Dukes, Billy Reed and the Street People, and the Men from U.N.C.L.E.
He can also be heard (and seen) in the movie Tommy Boy, on the soundtrack of the Love Guru, Jett Jackson, The Harold Arlen Story, Dinner At Fred`s, the Fifth Estate, numerous documentaries and the majority of shows on TSN. Theatre credits include: Joseph and the Technicolor Dreamcoat, Tommy, Rent, airspray, Dirt Dancing, Hair and Rock of Ages.
Tammy & Lindsay
Tammy Whetham and Lindsay Coulter perform as backup vocalists for the Stray Cats Tribute show A Boogie Woogie Christmas.