Mystic Fyre

heats up traditional jigs, reels and songs into molten Celtic Rock! Whether you are having a good ol' fashioned east coast cèilidh, celebrating Robbie Burns Day, St. Paddy's Day, or hosting a festival to thousands of people – Mystic Fyre ensures a good time is had by all!
Add our Classic Rock songs to the mix and you have the perfect band for festivals, fairs, corporate events, weddings, dances, pubs – any event you are having!
Mystic Fyre also performs heart-warming traditional and fun popular Christmas music with their show "A Celtic Christmas".
Mystic Fyre can adapt to your event requirements:
2-Piece: (1) Fiddle & Accordion (2) Fiddle & Guitar (3) Fiddle & Keyboard; plus vocals
3-Piece: Fiddle, Accordion or Keyboard, Guitar, Vocals
4-Piece: Fiddle/Mandolin, Accordion or Keyboard, Guitar, Bass or Drums, Vocals
5-Piece: Fiddle/Mandolin, Accordion or Keyboard, Guitar, Bass, Drums, Vocals
6-Piece: Fiddle/Mandolin, Accordion, Keyboard, Guitar, Bass, Drums, Vocals
Larger Band: add guest performers as needed, e.g. Harpist Moira Nelson
Irish Dancers also available: The Goggin-Carroll Irish Dancers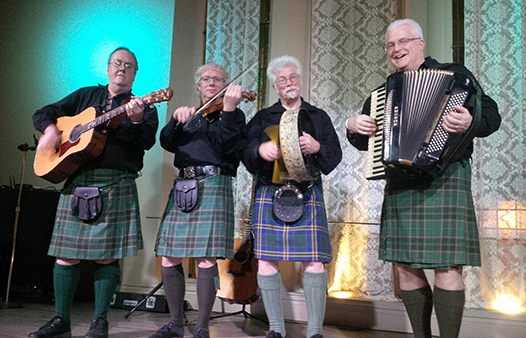 Video Samples:
All For Me Grog
Live from the Tall Ship "Empire Sandy" – Sat Sep 4, 2016 – Toronto
Blackthorn Stick
Live from the Tall Ship "Empire Sandy" – Sat Sep 4, 2016 – Toronto
Donald Where's Your Troosers?
Live from the Tall Ship "Empire Sandy" – Sat Sep 4, 2016 – Toronto
The King's Shilling
Live from the Scottish Studies Society – Scot of the Year Awards Night, May 13, 2016 – St. George's Hall, Toronto
Kansas City (Blues) – Mystic Fyre with Rory Sinclair on Bagpipes
Live from the Scottish Studies Society – Scot of the Year Awards Night, May 13, 2016 – St. George's Hall, Toronto
Audio Samples:
Celtic, Traditional, Folk:
Instrumentals:
Dever The Dancer – Swallow Tail Jig

Trip To Sligo

Morrison's Jig

After The Battle Of Aughrim

Mystic Jig

Pretty Peggy – Drowsy Maggie

Scottish Medley

Songs:
Whiskey In The Jar

Classic Rock, R&B, Blues, Pop, Originals, etc.:
Piece Of The Rock – Original, written and performed by Robert Laporte

Instrumental List:
| | |
| --- | --- |
| After The Battle Of Aughrim (Traditional Reel) | Mystic Jig (Phil Honsinger) |
| Angus Campbell (Traditional Reel) | Old John's Jig (Traditional Jig) |
| Ashokan Farewell – Theme from "The Civil War" (PBS TV Miniseries) – by Jay Ungar | Orange Blossom Special |
| Banish Misfortune (Traditional Reel) | Pretty Peggy (Traditional Jig) |
| Blackthorn Stick (Traditional Jig) | Prince Charles' Jig (Traditional Jig) |
| Dever The Dancer (Traditional Slip Jig) | Roxborough Castle (Traditional Reel) |
| Devil's Dream, The (Traditional Reel) | Shandon Bells (Traditional Jig) |
| Drowsy Maggie (Traditional Reel) | Sheehan's Reel (Traditional Reel) |
| Fisher's Hornpipe (Traditional Hornpipe Reel) | Smash The Windows (Traditional Jig) |
| Haste To The Wedding (Traditional Jig) | Soldier's Joy (Traditional Jig) |
| Irish Washerwoman, The (Traditional Jig) | Swallow Tail Jig (Traditional Jig) |
| Joys Of Wedlock, The (Traditional Jig) | Trip To Sligo (guitar solo) |
| Kesh, The (Traditional Jig) | Trippin' Up The Stairs (Traditional Jig) |
| Maggie Brown's Favourite (Traditional Jig) | Whiskey Before Breakfast (Traditional Reel) |
| Mason's Apron (Traditional Reel) | Wind That Shakes The Barley (Traditional Reel) |
| Morrison's Jig (Traditional Jig) | |
Celtic Song List:
Artist/Band
Title
Billy Joel
Downeaster Alexa
Dropkick Murphys
Finnegan's Wake
Dubliners
Seven Drunken Nights
Great Big Sea
Donkey Riding
Lukey's Boat
Mari-Mac
Night Pat Murphy Died, The
Old Black Rum
Run, Run Away
When I'm Up
Irish Rovers
Wasn't That A Party
Pete St. John
Fields Of Athenry, The
Pogues, The
Dirty Old Town
Streams Of Whiskey
Proclaimers, The
I'm Gonna Be (500 Miles)
Spirit Of The West
Crawl, The
Home For A Rest
Our Station
Stan Rogers
Barrett's Privateers
Traditional
All For Me Grog
Black Velvet Band
Carrickfergus
Cockles And Mussels
Danny Boy
Drunken Sailor
Farewell To Nova Scotia
I'll Take You Home Again Kathleen
I'll Tell Me Ma
Irish Rover, The
I'se The B'y
My Wild Irish Rose
Raglan Road
Red Is The Rose
Star Of The County Down
Three Drunken Maidens
Galway Bay
When Irish Eyes Are Smiling
Whiskey In The Jar
Wild Rover, The
Classic Rock Song List:
| | | | |
| --- | --- | --- | --- |
| Title | Artist/Band | Title | Artist/Band |
| Ain't No Sunshine (When She's Gone) | Bill Withers | Listen To The Music | The Doobie Brothers |
| All My Loving | Beatles | Magic Carpet Ride | Steppenwolf |
| Bad Moon Rising | CCR | Midnight Hour | Wilson Pickett |
| Black Magic Woman – Gypsy Queen | Santana | Mony Mony | Billy Idol |
| Born On The Bayou | CCR | Moondance | Van Morrison |
| Brown Sugar | Rolling Stones | Mustang Sally | Wilson Pickett |
| Cheap Sunglasses | ZZ Top | Old Time Rock And Roll | Bob Seger |
| Do The Bearcat | David Wilcox | Play That Funky Music | KC & The Sunshine Band |
| Funk #49 | James Gang | Pretty Woman | Roy Orbison |
| (I Heard It Through The) Grapevine | Marvin Gaye | Proud Mary | CCR |
| Hard Day's Night, A | Beatles | Roll On Down The Highway | BTO |
| Honky Tonk Woman | Rolling Stones | (Sittin' On) The Dock Of The Bay | Otis Redding |
| Hound Dog | Elvis | Some Kind Of Wonderful | Grand Funk Railroad |
| House Of The Rising Sun | The Animals | Something | Beatles |
| Hurts So Good | John Cougar Mellencamp | Stand By Me | Ben E. King |
| I Saw Her Standing There | Beatles | Superstition | Stevie Wonder |
| I'm A Believer | Neil Diamond | Susie Q | CCR |
| La Grange | ZZ Top | Sweet Caroline | Neil Diamond |
| Lido Shuffle | Boz Scaggs | Take It Easy | Eagles |
| Light My Fire | The Doors | Tush | ZZ Top |
Original Songs:
| | | |
| --- | --- | --- |
| Title | Composer | Sung By |
| Piece Of The Rock | Robert Laporte | Robert Laporte |
Band Members:
Ross Daly
Fiddle, Keyboard, Vocals
See: Ross Daly
Phil Honsinger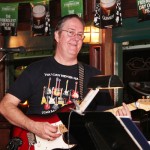 Guitars, Vocals
Guitarist-extraordinaire Phil Honsinger draws on his musical perspectives from a variety of styles ranging from Celtic and jazz, to gospel, classical, rock and country. Phil's 30+ years of performing experience blend into his own unique and personal style of playing – from aggressive, high-energy flat-picking to lyrical finger-picking – as is evident in his performances, music arrangements and original compositions!
Cutting his musical teeth performing in Ontario pubs, Phil has also been heard on numerous radio stations including BBC (Belfast, Ireland), CBC (Toronto, Ontario), CKWR (Waterloo), and various community, university and college radio stations across North America. Phil has been interviewed on CKCO-TV (Kitchener) and seen on Rogers TV (Day Time Show) and CHCH-TV (Hamilton). He has performed at many Celtic & folk festivals throughout Ontario including Fergus, Goderich, Sarnia & Haliburton and has recorded on four CDs with the band Failte and Mystic Fyre.
Phil earned a Bachelor of Mathematics degree from the University of Waterloo with a Computer Science major and a business minor at Wilfrid Laurier University. A published author for computer and woodcarving publications, he is also now building guitars, as seen at www.philhonsinger.com.
Phil has a passion for performing the music of the Beatles. The subsequent explosion of the incredible rock talents of the 60s has inspired Phil to keep a guitar in his hands ever since. Other Celtic, country, rock and folk influences include Chet Atkins, Doyle Dykes, Buster Jones, Great Big Sea, Spirit of the West, Gordon Lightfoot and Tony Rice.
Stephen Todd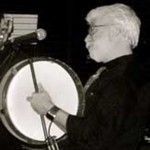 Lead Vocals, Whistles, Bodhrán
Tony Janusky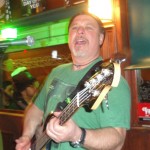 Bass, Vocals
Tony is classically trained on the double bass and has played with various orchestras and theatre  productions.
Bass Guitar was a natural migration and grew to be his main instrument as well as singing lead and back-up Vocals. He's been performing live and in studio as well as composing for over 30 years, and is having more fun entertaining great crowds now more than ever before!
Robert "Bobby" aka "Rock" Laporte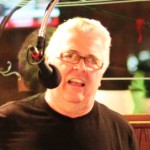 Drums, Percussion, Vocals
Robert aka "Bobby" aka "Rock" Laporte
Major Musical, Pop Culture, Place and Personal Influences:
Buddy Rich, Joe Morello, Gene Krupa, Bongo Bob Baron, Steely Dan, The Beatles, The Doors, Max Roach, Ed Thigpen, Grady Tate, George Carlin, Barcelona, Paris, Madrid, Detroit, Motown, Led Zeppelin, Moody Blues, Irish Whiskey, Scotch Whisky — especially The 15 year old Macallan Single Malt — and Victoria's Secret annual runway show featuring Heidi Klum, and a troop of gazelles with legs up to their necks.
Bobby "Rock" Laporte was born in Windsor Ontario and began his career in 1967 after having learned the basics in various garage bands and basement bands and sub-basement bands. Starting with a humble set of Teal Dixie drums he played everywhere he could and joined a band in grade 9. After a few short but memorable months he was in his first real band and after the next couple of years went by he had saved enough for his first set of Stewarts presented to him as a 16th birthday gift.
He jammed with friends and high school bands and joined his first Blues band: the Stanley Chauvin Blues band. It was led by "Suitcase" James Stanley, a bassist who has influenced many Canadian musicians. As Suitcase is Bob's first cousin, they talked about music incessantly and played on the Windsor booze can circuit, as well as doing gigs in high schools, colleges and universities. Bob went on the road in 1971 with Sardonicus, a five-piece vocal band who he fondly remembers. All original Sardonicus members are all active musically.
Although these road trips got longer and longer, when he was home Bob continued to work for his father and attended the University of Windsor for one semester. He left school in 1973 to pursue a full-time musical career. He played regularly in the Detroit scene with Sardonicus and later Wynbridge – another classic rock vocal group. They were soon backing several up-and-coming Detroit bands such as Teegarden and Van Winkle, Rumor and Bob Seger's Silver Bullet Band, in 1975. Wynbridge recorded in East Detroit in 1975 but fortunately did not sign a standard Motown-type contract, which would have tied them down for many years.
Bob later relocated Wynbridge to Toronto but after six months two of the four members got homesick and moved back to Windsor. Bob stayed in Toronto, joined IBM in 1978 and within three months had started another band with his best IBM friend, George, and they are still jamming and playing today. While raising three beautiful children, Bob found the music taking too much time away from family, so he came off the road, worked full-time for IBM and played weekends here and there.
In 1987, he met Bongo Bob Baron, who hosted an incredible jam in Markham and after the second meeting, Bob was asked to be the house drummer for the jam session. He met and played with many great musicians, including Grant Fullerton, Colleen Allen, Colin Linden, Kurt Schefter, Amanda Marshall and Alec Fraser, to name a few "biggies". He also met Andrew Heathcote, Russ Blakely and Bruce Bamford and, with Bongo, they went on to form a solid classic rock vocal band called "What About Bob" in 2002. Bob was also asked to be Grant Fullerton's house drummer for several years and appeared as first call drummer for both of Grant's CDs — one studio, one live — and played on Global TV and Citytv shows with Grant, Russ and Bongo. The other Blues band of note was NuRaw Blues, consisting of Douglas Pipher, Rod Pipher, Lloyd Smith and Bob. This band, which focused on Chicago Blues, Mississippi Delta Blues and Texas Rocking Blues, played regularly in the '90s around the GTA and Markham. Bob remains a first call drummer and singer and has joined another group named "MGB-ROCKS!" MGB is a classic rock band that consists of Mark Thomas, Gary MacMillan and Barry Pausey.
Robert is pleased to be a member of Mystic Fyre as drummer and vocalist!
Rick Guzik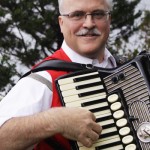 Accordion, Vocals
Rory Sinclair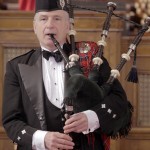 Bagpipes, Guitar, Bass, Vocals
Rory has been doing music in one way or another all his life. To begin with, there was a piano in the family home in Deep River and he noodled on the instrument almost daily till he left home for University.  While in Deep River he took lessons on the Great Highland Bagpipe and the Saxophone. In addition he played clarinet and ukulele in two folk groups –self taught on both.
While at University he took up guitar – learning on his roommate's instrument. The guitar has been a constant in his life ever since.
In 1991 Rory took up his bagpipes again and embarked on 20 years of weekly lessons with Pipe Major John MacKenzie of Newmarket. In the '90's he competed at Highland Games with some success in  Piobaireachd [classical form] as well as light music. Since taking up his piping again he has composed over 20 original pipe tunes.
Since 2000, Rory has been most interested in combining the music of the bagpipe with other instruments. He has produced 3 CD's of pipe music both traditional and with other instruments. The most recent, "The World Through a Piper's Fingers" features tunes, genres and songs that have never seen pipes: Bob Marley, Chuck Berry, Cajun, Calypso inter alia. He has played in several Irish bands, for various tracks on CD's of other musicians, for countless academic processions, weddings, funerals and plays pipes with organ in many downtown churches.  But the musical position of which he is most proud is being appointed Piper to the Earl of Caithness, Hereditary  Chief of Clan Sinclair.
Karen Thornton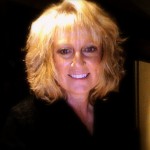 Keyboard, Vocals
Karen has been performing for many years as a piano and vocal solo artist in Southern Ontario for all kinds of occasions from corporate events to jazz festivals. She has also performed as a solo, duo, and in larger ensembles for the past 18 years at the Ancaster Old Mill. Originally from England, her love of music was inspired by her father – a jazz vocalist and drummer – who exposed her to the world of Big Band and Jazz. Even though her musical roots are jazz inspired, she loves ALL music!!! R&B, Funk, Gospel, Celtic, Swing, Latin, Country…
Karen has recently left the group to peruse her own jazz performances and recordings. It was a pleasure and honour working with her and we wish her all the best!