Mannheim Virtuosi String Quartet (MVSQ)
is a unique string ensemble – acoustic or electric – that can liven up your event performing a vast array of musical styles including:
Baroque, Classical, Romantic, Contemporary, Pop, Rock, Light Jazz, Blues, Latin, Celtic, Country, Bluegrass, New Age, Original, Seasonal, Christmas, and more!
MVSQ has dazzled audiences at countless events across North America including festivals, fairs, concert series, corporate events, weddings,and special events!
This ensemble, formed in 1987 by Ross Daly and Angela Cox-Daly, can also perform as:
Solo: violin, viola or cello
Duo: (1) 2 violins (2) violin & viola (3) or violin & 'cello
Trio: violin, viola & 'cello
Quartet: 2 violins, viola & 'cello
Larger Ensemble:  up to a 10‑piece ensemble with various instrumentation – guitar, bass, piano, voice, harp, flute, trumpet, drums, percussion, etc.  MVSQ is also the nucleus band for "The Classical Rock Show".
Mannheim Virtuosi concert performance programming is variable:
Classical & Baroque
Light Classical & Romantic: Popular Classics
Light Jazz, Pop, Rock, Latin & Celtic
New Age, Easy Listening & Originals
Mixture of Styles from Classical to Classic Rock
Seasonal / Theme: Christmas (A Jazzy Little Christmas); Halloween
Each show delivers dynamic entertainment value in a professional manner as they have done for over 25 years!
Reviews: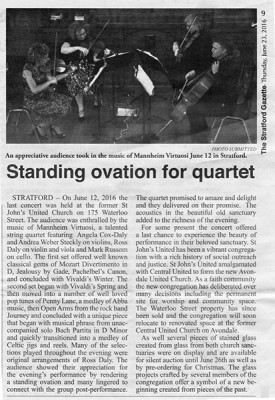 Video Samples:
Classical:
Elgar – Salut D'Amour
Massenet – Meditaion from "Thais"
Vivaldi – Spring from the Four Seasons
Gade – Jealousie
Monti – Czardas
Pop, Rock ,Jazz, etc:
ABBA Medley
Beatles – Eleanor Rigby
Orange Blossom Special
Oh, Canada – Hockey Night In Canada
Repertoire List:
MVSQ has an extensive playlist. Contact us for details!