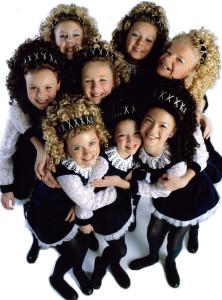 The Goggin-Carroll Irish Dancers
are available for performances at your festival, fair, wedding, fundraiser, corporate or private events – large or small. We will customize our show to meet your needs. We perform with backing tracks or with the live Celtic band: Mystic Fyre!
The dance troop will range in all ages and levels and we will work with you to fit your financial needs and wishes while tailoring the event for a memorable performance.
The Goggin-Carroll School of Irish Dance
offers both recreational and competitive dance programs for children and adults. Oakville, Ontario,  classes are held in our three-studio complex on South Service Road near Trafalgar and Royal Windsor Drive. Windsor, Ontario, classes are held on Tecumseh Road West near Campbell Avenue (by the Piruzzi Plaza).
Goggin-Carroll is committed to providing quality dance programs which will improve a child's self-esteem and enhance their social and physical development. With this in mind, each child will be provided with the stimulus and the opportunity to develop these skills to their fullest potential. Not every dancer will become a champion, but they will all be encouraged to become the best dancer, athlete and student that they can be.
Who knows? Maybe it'll happen???