Mystic Fyre
performs heart-warming traditional and fun popular Christmas music with a Celtic flare!
Mystic Fyre can also heat up traditional jigs, reels and songs into molten Celtic Rock! Whether you are having a good ol' fashioned east coast Christmas Cèilidh, celebrating St. Paddy's Day, or hosting a festival to thousands of people – Mystic Fyre ensures a good time is had by all!
Add our Classic Rock songs to the mix and you have the perfect band for festivals, fairs, corporate events, weddings, barn dances, pubs – any event you are having!
Mystic Fyre can adapt to your event requirements:
2-Piece: Fiddle & Guitar (Instrumental)
3-Piece: Fiddle/Keyboard, Guitar, Bass or Drums, Vocals
4-Piece: Fiddle/Keyboard, Guitar, Bass, Drums, Vocals
5-Piece: Fiddle/Mandolin, Guitar, Bass, Drums, Keyboard, Vocals
Larger Band: add guest performers as needed, e.g. Harpist Moira Nelson
Irish Dancers also available: The Goggin-Carroll Irish Dancers
Video Samples:
Christmas Song List:
Angels From The Realms Of Glory
Angels We Have Heard On High
Auld Lang Syne
Away In A Manger
Bell Carol – Carol Of The Bells
Blue Christmas
Christ Was Born On Christmas Day
Christmas In Killarney
Christmas Song, The (Chestnuts)
Coventry Carol
Deck The Hall
Ding Dong Merrily On High
Drunken Santa
Feliz Navidad
First Noel, The
Frosty The Snowman
God Rest Ye Merry Gentlemen
Good Christian Men Rejoice
Good King Wenceslas
Grandma's Killer Fruitcake
Hark The Herald Angels Sing
Have Yourself A Merry Little Christmas
Here We Come A-Wassailing
Holly Jolly Christmas
I Saw Three Ships
It Came Upon A Midnight Clear
Jesu, Joy Of Man's Desiring
Jingle Bells
Jingle Bell Rock
Joy To The World
Let It Snow
Little Drummer Boy
My Favourite Things
O Christmas Tree
O Come, All Ye Faithful
O Holy Night
On Christmas Night
Rockin' Around The Christmas Tree
Rudolph The Red-Nosed Reindeer
Santa Claus Is Comin' To Town
Silent Night
Silver Bells
Snow Lay On The Ground
Twelve Days Of Christmas
Virgin Unspotted
We Three Kings Of Orient Are
We Wish You A Merry Christmas
What Child Is This?
White Christmas
Winter Wonderland
Instrumental Play List:
click here
Classic Rock Song List:
click here
Band Members:
Ross Daly:
Fiddle, Keyboard, Vocals
Ross' Bio coming soon!
Ross' Bio coming soon!
Ross' Bio coming soon!
Phil Honsinger: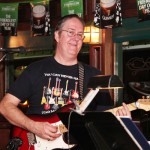 Guitars, Vocals
Guitarist-extraordinaire Phil Honsinger draws on his musical perspectives from a variety of styles ranging from Celtic and jazz, to gospel, classical, rock and country. Phil's 30+ years of performing experience blend into his own unique and personal style of playing – from aggressive, high-energy flat-picking to lyrical finger-picking – as is evident in his performances, music arrangements and original compositions!
Cutting his musical teeth performing in Ontario pubs, Phil has also been heard on numerous radio stations including BBC (Belfast, Ireland), CBC (Toronto, Ontario), CKWR (Waterloo), and various community, university and college radio stations across North America. Phil has been interviewed on CKCO-TV (Kitchener) and seen on Rogers TV (Day Time Show) and CHCH-TV (Hamilton). He has performed at many Celtic & folk festivals throughout Ontario including Fergus, Goderich, Sarnia & Haliburton and has recorded on four CDs with the band Failte and Mystic Fyre.
Phil earned a Bachelor of Mathematics degree from the University of Waterloo with a Computer Science major and a business minor at Wilfrid Laurier University. A published author for computer and woodcarving publications, he is also now building guitars, as seen at www.philhonsinger.com.
Phil has a passion for performing the music of the Beatles. The subsequent explosion of the incredible rock talents of the 60s has inspired Phil to keep a guitar in his hands ever since. Other Celtic, country, rock and folk influences include Chet Atkins, Doyle Dykes, Buster Jones, Great Big Sea, Spirit of the West, Gordon Lightfoot and Tony Rice.
Tony Janusky:
Bass, Vocals
Tony started playing at the tender age of 6 but briefly gave it up until he turned 13 at which point he realized that girls seemed attracted to Musicians!!
Tony is classically trained on the double bass, having played with university and community orchestras, as well as stage productions and numerous rock, pop and jazz bands. Bass Guitar was a natural migration and grew to be his main instrument, as well as singing Lead and Backup Vocals. Tony has been performing live and doing studio work for over 30 years, and is having more fun entertaining great crowds now more than ever before !!!
Robert Laporte: Robert aka "Bobby" aka "Rock" Laporte
Drums, Percussion, Vocals
Robert aka "Bobby" aka "Rock" Laporte
Major Musical, Pop Culture, Place and Personal Influences:
Buddy Rich, Joe Morello, Gene Krupa, Bongo Bob Baron, Steely Dan, The Beatles, The Doors, Max Roach, Ed Thigpen, Grady Tate, George Carlin, Barcelona, Paris, Madrid, Detroit, Motown, Led Zeppelin, Moody Blues, Irish Whiskey, Scotch Whisky — especially The 15 year old Macallan Single Malt — and Victoria's Secret annual runway show featuring Heidi Klum, and a troop of gazelles with legs up to their necks.
Bobby "Rock" Laporte was born in Windsor Ontario and began his career in 1967 after having learned the basics in various garage bands and basement bands and sub-basement bands. Starting with a humble set of Teal Dixie drums he played everywhere he could and joined a band in grade 9. After a few short but memorable months he was in his first real band and after the next couple of years went by he had saved enough for his first set of Stewarts presented to him as a 16th birthday gift.
He jammed with friends and high school bands and joined his first Blues band: the Stanley Chauvin Blues band. It was led by "Suitcase" James Stanley, a bassist who has influenced many Canadian musicians. As Suitcase is Bob's first cousin, they talked about music incessantly and played on the Windsor booze can circuit, as well as doing gigs in high schools, colleges and universities. Bob went on the road in 1971 with Sardonicus, a five-piece vocal band who he fondly remembers. All original Sardonicus members are all active musically.
Although these road trips got longer and longer, when he was home Bob continued to work for his father and attended the University of Windsor for one semester. He left school in 1973 to pursue a full-time musical career. He played regularly in the Detroit scene with Sardonicus and later Wynbridge – another classic rock vocal group. They were soon backing several up-and-coming Detroit bands such as Teegarden and Van Winkle, Rumor and Bob Seger's Silver Bullet Band, in 1975. Wynbridge recorded in East Detroit in 1975 but fortunately did not sign a standard Motown-type contract, which would have tied them down for many years.
Bob later relocated Wynbridge to Toronto but after six months two of the four members got homesick and moved back to Windsor. Bob stayed in Toronto, joined IBM in 1978 and within three months had started another band with his best IBM friend, George, and they are still jamming and playing today. While raising three beautiful children, Bob found the music taking too much time away from family, so he came off the road, worked full-time for IBM and played weekends here and there.
In 1987, he met Bongo Bob Baron, who hosted an incredible jam in Markham and after the second meeting, Bob was asked to be the house drummer for the jam session. He met and played with many great musicians, including Grant Fullerton, Colleen Allen, Colin Linden, Kurt Schefter, Amanda Marshall and Alec Fraser, to name a few "biggies". He also met Andrew Heathcote, Russ Blakely and Bruce Bamford and, with Bongo, they went on to form a solid classic rock vocal band called "What About Bob" in 2002. Bob was also asked to be Grant Fullerton's house drummer for several years and appeared as first call drummer for both of Grant's CDs — one studio, one live — and played on Global TV and Citytv shows with Grant, Russ and Bongo. The other Blues band of note was NuRaw Blues, consisting of Douglas Pipher, Rod Pipher, Lloyd Smith and Bob. This band, which focused on Chicago Blues, Mississippi Delta Blues and Texas Rocking Blues, played regularly in the '90s around the GTA and Markham. Bob remains a first call drummer and singer and has joined another group named "MGB-ROCKS!" MGB is a classic rock band that consists of Mark Thomas, Gary MacMillan and Barry Pausey.
Robert is pleased to be a member of Mystic Fyre as drummer and vocalist!