Mystic Fyre
performs traditional jigs, reels and songs and also heats them up into molten Celtic Rock! Musical influences include Great Big Sea, the Dubliners, Chieftains, Corrs, and Secret Garden.
Hailing from the Waterloo region, Mystic Fyre has been on the scene for the past 25 years performing at various concert venues, festivals, fairs, corporate and private events, weddings, and cèilidhs (kālēs) throughout Ontario.
Whether you are having a good ol' fashioned east coast cèilidh, celebrating Robbie Burns Day, St. Paddy's Day, or hosting a concert, festival or fair to hundreds of people – Mystic Fyre ensures a good time is had by all!
Add our Classic Rock songs to the mix and you have the perfect band for festivals, fairs, corporate events, weddings, dances, pubs – any event you are having!
Mystic Fyre also performs heart-warming traditional, and fun popular, Christmas music with their show "A Celtic Christmas Celebration".
Mystic Fyre can adapt to your event requirements:
2-Piece: (1) Fiddle & Accordion (2) Fiddle & Guitar (3) Fiddle & Keyboard; plus vocals
3-Piece: Fiddle/Mandolin, Accordion or Guitar, Bodhrán, Whistles, Vocals
4-Piece: Fiddle/Mandolin, Accordion, Guitar, Bodhrán, Whistles, Vocals
5-Piece: Fiddle/Mandolin, Accordion, Guitar, Bodhrán, Whistles, Bass or Drums, Vocals
6-Piece: Fiddle/Mandolin, Accordion, Guitar, Bodhrán, Whistles, Bass, Drums, Vocals
Larger Band: add guest performers as needed, e.g. Bagpipes, Uilleann Pipes, Harpist (Moira Nelson)
Irish Dancers also available: The Goggin-Carroll Irish Dancers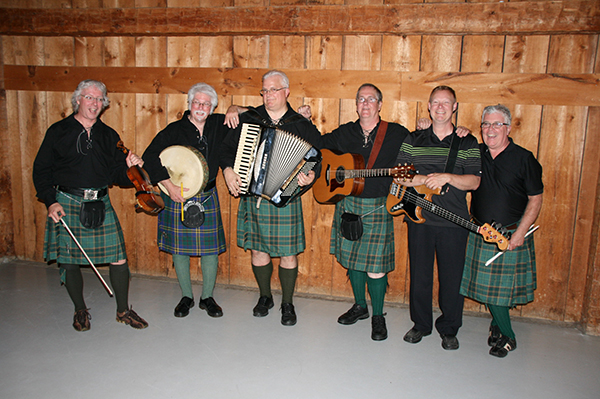 Video Samples:
Mystic Fyre Concert Demo
Live from the Revival House, Stratford, ON – Thu Mar 10, 2017
The Star Of The County Down
Live from the Revival House, Stratford, ON – Thu Mar 10, 2017
All For Me Grog
Live from the Tall Ship "Empire Sandy" – Sat Sep 4, 2016 – Toronto
Blackthorn Stick
Live from the Tall Ship "Empire Sandy" – Sat Sep 4, 2016 – Toronto
Donald Where's Your Troosers?
Live from the Tall Ship "Empire Sandy" – Sat Sep 4, 2016 – Toronto
The King's Shilling
Live from the Scottish Studies Society – Scot of the Year Awards Night, May 13, 2016 – St. George's Hall, Toronto
Kansas City (Blues) – Mystic Fyre with Rory Sinclair on Bagpipes
Live from the Scottish Studies Society – Scot of the Year Awards Night, May 13, 2016 – St. George's Hall, Toronto
Audio Samples:
Celtic, Traditional, Folk:
Instrumentals:
Dever The Dancer – Swallow Tail Jig

Trip To Sligo

Morrison's Jig

After The Battle Of Aughrim

Mystic Jig

Pretty Peggy – Drowsy Maggie

Scottish Medley

Songs:
Whiskey In The Jar

Classic Rock, R&B, Blues, Pop, Originals, etc.:
Piece Of The Rock – Original, written and performed by Robert Laporte

Instrumental Play List:
click here
Classic Rock Song List:
click here
Band Members:
Ross Daly

Fiddle, Mandolin, Keyboard, Vocals

See: Ross Daly

Phil Honsinger

Guitars, Vocals

Guitarist-extraordinaire Phil Honsinger draws on his musical perspectives from a variety of styles ranging from Celtic and jazz, to gospel, classical, rock and country. Phil's 30+ years of performing experience blend into his own unique and personal style of playing – from aggressive, high-energy flat-picking to lyrical finger-picking – as is evident in his performances, music arrangements, recordings and original compositions!

With extensive performance experience in Ontario pubs and on concert stages, Phil has also been heard on numerous radio stations including BBC (Belfast, Ireland), CBC (Toronto, Ontario), CKWR (Waterloo), and various community, university and college radio stations across North America. Phil has been interviewed on CKCO-TV (Kitchener) and seen on Rogers TV (Day Time Show) and CHCH-TV (Hamilton). He has performed at many Celtic & folk festivals throughout Ontario including Fergus, Goderich, Sarnia & Haliburton.

Phil earned a Bachelor of Mathematics degree from the University of Waterloo with a Computer Science major and a business minor at Wilfrid Laurier University. A music teacher and published author for computer and woodcarving publications, he is also now building guitars, as seen at www.philhonsinger.com.

Stephen Todd

Lead Vocals, Whistles, Bodhrán

"Oh when I was 19, I was young, I was keen and I had a burning ambition to be a folk singer….. singing songs that were full of tradition"  The Folksingers Lament by Eric Bogle.

Stephen, a native of Northern Ireland, loves to beat the rhythm of the goat on his bodhrán and sing bawdy Celtic songs in pubs, clubs and seaman's missions. He is sometimes seen playing the tin whistle and guitar. Stephen has been entertaining audiences for 26 years.

Career highlights include performing on 6 CD recordings, and has performed with the Chieftains and Leahy at the Centre in the Square in Kitchener, Ontario.

His passion for kilts and bagpipes is well known.

Rick Guzik

Accordion, Vocals

Rick Guzik is an accomplished accordionist that has been entertaining audiences with his vast repertoire as a solo or band sideman for over 40 years!

Rick's unique talent is "Strolling Accordion". Having performed at many weddings, corporate parties, fundraisers, and private functions, the audience is always amazed at the great atmosphere created with his live renditions and repertoire.

Continental (especially Italian, Polish, Irish, and French music), 50's thru 70's (and some later) hits, blues and jazz standards are personal favourites of his wide musical range.

You may have seen Rick performing solo at venues in K-W and as a band member with The Hansen Singing Strings, The Zigge Zagge's, and Mystic Fyre, The Flatheads, and Jordo & Shamrocks.

Television and live radio appearances, studio recording/session work, senior's centres, trade fairs, press/promotional tours, countless wedding receptions, many KW Oktoberfest events, and even adjudicating at music competitions round out his musical resume.

Tony Janusky

Bass, Vocals

Tony is classically trained on double bass and holds a bachelor's degree in music performance. Having performed with various orchestras and theatre productions, electric bass grew to be his main instrument (in addition to singing lead and backing vocals).

As a multi-instrumentalist, Tony performs on fretted and fretless electric bass, acoustic bass, acoustic & electric guitar, drums and keyboards. Tony has been performing live and doing studio work for over 35 years, and is having more fun entertaining great live audiences than ever before!

Robert Laporte

Drums, Percussion, Vocals

Robert  "Rock" Laporte was fortunate to be born in Windsor, Ontario; a hotbed of live music and the biggest names in entertainment (Jazz/Motown, Rock and Roll, Blues, Psychedelic, R&B) that were appearing in Windsor and Detroit theatres, clubs, and concert halls. A career in music was always in the cards for Robert. He fell in love with music as a small child and picked up the drumsticks in 1967. Practice/practice continued and he  joined a high school immediately.

He played regularly in the Detroit and Windsor and all over Ontario with bands Sardonicus and Wynbridge, both classic rock vocal groups. They soon backed Detroit bands Teegarden and Van Winkle, and Bob Seger's Silver Bullet Band, in 1975.

Robert relocated Wynbridge to Toronto in 1976, joined IBM Canada in 1978 and enjoyed a long career, and immediately went back full time to music after retiring in 2011 from IT.

He continues to celebrate his passion and is in his fiftieth year of playing drums, singing; being in bands. Also songwriting and a self – published book of Poetry (Off the Top of my Head(2015)). He continues to play weekly with talented local musicians in the GTA/HGA. He also enjoys being asked to sit in to drum, sing or play percussion with local acts, and mentoring the next generation of talent.

Ian Graham

Keyboard, Bass, Vocals

Small Dog Studio's owner and engineer, Ian Graham, is a well educated musician and audio engineer holding a BA in Music Composition and has over 30 years in performance/engineering in a very wide variety of musical styles from classical, rock, jazz, theater, church and country.

Ian is an Apple certified Logic Pro X trainer and also teaches audio production at Conestoga and Niagara college as well as Wilfrid Laurier University. He holds a Grade 10 conservatory degree in pipe organ, Grade 9 conservatory degree in piano, and Grade 3 Conservatory degree in Theory/Harmony/History. Ian is also quite fluent on electric bass with a good understanding of other instruments such as guitar and drums. As an engineer, he has produced and recorded numerous bands, soloists, corporate and theater clients.

Rory Sinclair

Bagpipes, Guitar, Bass, Vocals

Rory has been doing music in one way or another all his life. To begin with, there was a piano in the family home in Deep River and he noodled on the instrument almost daily till he left home for University.  While in Deep River he took lessons on the Great Highland Bagpipe and the Saxophone. In addition he played clarinet and ukulele in two folk groups –self taught on both.

While at University he took up guitar – learning on his roommate's instrument. The guitar has been a constant in his life ever since.

In 1991 Rory took up his bagpipes again and embarked on 20 years of weekly lessons with Pipe Major John MacKenzie of Newmarket. In the '90's he competed at Highland Games with some success in  Piobaireachd [classical form] as well as light music. Since taking up his piping again he has composed over 20 original pipe tunes.

Since 2000, Rory has been most interested in combining the music of the bagpipe with other instruments. He has produced 3 CD's of pipe music both traditional and with other instruments. The most recent, "The World Through a Piper's Fingers" features tunes, genres and songs that have never seen pipes: Bob Marley, Chuck Berry, Cajun, Calypso inter alia. He has played in several Irish bands, for various tracks on CD's of other musicians, for countless academic processions, weddings, funerals and plays pipes with organ in many downtown churches.  But the musical position of which he is most proud is being appointed Piper to the Earl of Caithness, Hereditary  Chief of Clan Sinclair.

Moira Nelson

Harp, Vocals

Moira is an accomplished and versatile artist who performs a wide variety of music including original, traditional, classical and Celtic selections.

Born in London, England, Moira moved to Toronto as a child and began her musical education with piano lessons at the Royal Conservatory of Music. By the age of twelve she had passed her Grade 10 piano examination and was performing her own compositions at concerts and recitals. Her studies broadened to include harmony, composition, voice and classical guitar.

Still in high school, Moira made her professional debut as a pianist with a jazz quartet. A chance encounter during a vacation in England led to extensive appearances in and around London where she worked as a soloist, playing guitar and singing Celtic and traditional music along with her own original songs.

Later, Moira began playing the harp, an instrument she had always dreamed of mastering. She now plays a a 36-string "Enchantress" lever harp, which was custom designed and built for her by "MLC Design".

Moira's busy schedule includes concert and studio work in addition to private and corporate functions, festivals & fairs. Recently, Moira released her third CD, "Echoes of Another Time", a colaboration with Elena Jubinville. Her second CD, "After the Fall", with Elena Jubinville, Kathryn Moses and Rick Lazar was released in 2001. Moira's first album, "Time Calls My Name", features many of her own compositions and has received excellent reviews. Selections from all three albums have received international airplay. Moira's harp composition "Moonfyre", appears on a compilation CD released in Italy by "Keltica".
Gallery