Jul
10
Mon
Classical Rock Orchestra Camp: July 10-14, 2017

@ Bethel Evangelical Lutheran Church
Jul 10 @ 9:00 am – Jul 14 @ 4:00 pm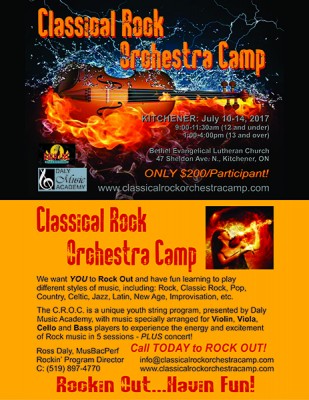 Classical Rock Orchestra Camp
We want YOU to Rock Out and have fun learning to play different styles of music, including: Rock, Classic Rock, Pop, Country, Celtic, Jazz, Latin, New Age, Improvisation, etc.
The Classical Rock Orchestra Camp is a unique youth string program, presented by Daly Music Academy, with music specially arranged for Violin, Viola, Cello and Bass players to experience the energy and excitement of Rock music in 5 sessions – PLUS concert!
Kitchener Dates: July 10-14, 2017
    Session One (12 and under): 9:00 – 11:30 am
Minimum Playing Level: RCM gr. 1, or Suzuki Book 1 (later pieces)
    Session Two (13 and over): 1:00 – 4:00 pm
Minimum Playing Level: RCM gr. 3, or Suzuki Book 3
Kitchener Location:
Bethel Evangelical Lutheran Church, 47 Sheldon Ave. N., Kitchener, ON N2H 3M1
We reserve the right to change the times and/or merge the age groups if minimum enrollment is not met.
The cost for the Summer Camp is only $200 per participant!  Nutritional snacks provided.
Tell your Friends!!
Visit www.classicalrockorchestracamp.com for more information.
Call TODAY to ROCK OUT!
Ross Daly, MusBacPerf
Rockin' Program Director
C: (519) 897-4770
info@classicalrockorchestracamp.com
www.classicalrockorchestracamp.com

Rockin' Out…. Havin' Fun!